Job Site Safety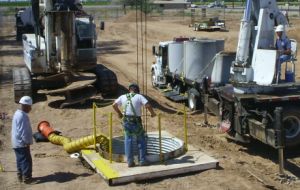 Basic Drilling Co. takes safety on the job site very seriously. It is our policy to provide a safe and healthy work environment for everyone. We are in compliance with all safety standards set by OSHA, but go above these standards in our business practices.  We have been both nominated and awarded the "Best of the Best" Award by SCF of Arizona for "Outstanding Contribution to Safety Achievement".
A safe working environment does not occur by chance. It requires everyone's close attention and open communication between management and employees. Every employee at Basic Drilling Co. is thoroughly trained in safety procedures. Everyone is obligated to know and abide by the safety requirements and standards for their area or job.
We understand that each and every drilling job is different. Prior to each job that we start, we do a complete analysis of all safety plans that need to be implemented. This provides us with the ability to identify any potential problems that we may come across and how to prepare for them.
Here is a sampling of some of the Safety Programs and Policies in use by Basic Drilling Co.:
Job Analysis to foresee any hazardous circumstances
Daily Review of safety issues
Zero Tolerance Substance Abuse Program
Confined Space Entry Permit / Fall Protection Programs
HazCom / MSDS Program
Active Company Safety Committee
Regular Management Meetings
First Aid & CPR Certifications for Employees
MCAQD  Dust Control Compliance Program
Safety is our #1 concern. It is of the utmost importance to keep the job site safe for our employees and our customers.  Studies have shown that the safer a workplace, the more productive its workers are and the better its products are. Basic Drilling Co. is committed to providing our customers more than a job well done… a job well done safely.
For more information about our drilling safety procedures, please give us a call at
480-983-6787
, or reach us through our
Contact Us
page.