Drilling Services, Foundation Drilling, Caissons, Drilled Shafts, Augered Holes:
Most hole sizes we drill are from 1 foot to 10 foot in diameter . . . up to 150 feet deep. We are often called upon to drill through conglomerate, caliche, rock, and other difficult formations.
We have a diverse range of equipment for many different applications. Our truck mounted drills are perfect when quick and clean mobilizations are required. Crawler mounted European style rigs are best suited for high production sites, or large volume jobs where set-up time between holes needs to be minimized. Our compact excav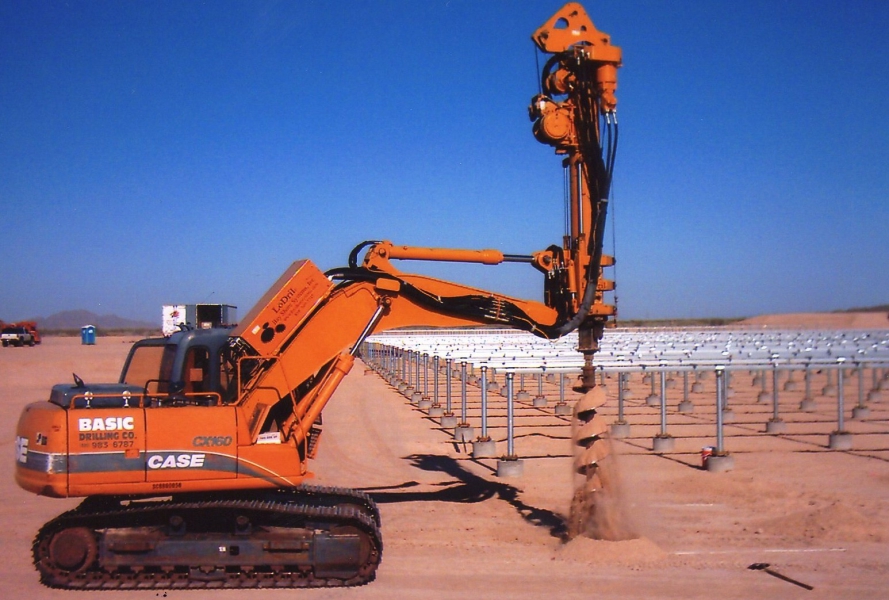 ator rig works well where access is restricted, sloping terrain, or under obstacles (power-lines, indoors, etc).
Basic Drilling Company owns a wide variety of dirt augers, rock augers, core barrels, and drilling buckets to handle almost any soil condition. We also own quite an assortment of support equipment: loaders, dump-trucks, and boom trucks to complement the drilling machines. The combination of modern drill-rigs, state-of-the-art tooling, and experienced operators gives Basic Drilling Company the resources to handle almost any drilling requirements you may have.
We specialize in a wide range of project: solar panel foundations, communication towers, power-line structures, utility poles, or drilled piers for buildings. We operate through-out the State of Arizona: Tucson, Flagstaff, Showlow, Kingman, Phoenix, etc.

For more information about our services, please give us a call at 480-983-6787, or reach us through our Contact Us page.